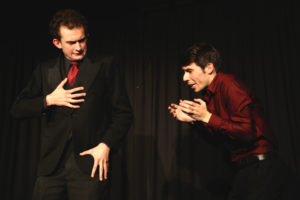 The Awkward Silence is the name of the sketch group I perform in with Vyvyan Almond. Our website is here if you click on this link go on click on this one right here, GO ON – it has our videos, upcoming gigs, and more.
Along the way, The Awkward Silence have been shortlisted for a BBC Writer's Prize and nominated for a Writers' Guild Award. We have been described variously as "thoroughly entertaining and notably original" and "mediocre".
We have produced three narrative sketch shows, The Voyage of The Narwhal, Racketeers, and The Bastard King, the first two of which are available to watch here and here. Our work is often script-edited by David Quantick, who has written for every programme ever broadcast, including Brass Eye, The Thick of It, and Harry Hill's TV Burp.
We are currently developing a new stage show and a podcast. Should you wish us to turn up and perform on your lawn, email us on theawkwardsilence@hotmail.co.uk.